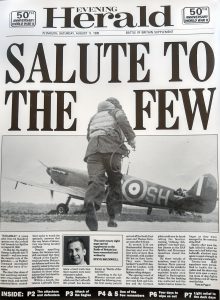 Rummaging through the clutter in the garden shed recently, I found some old newspaper cuttings from my days as a reporter on the Plymouth Evening Herald.
They included one of the last articles I wrote before leaving journalism to study history at university as a mature student. It was an interview with the remarkable Maurice Leng (1913-95), who served as an RAF fighter pilot throughout the Second World War.
This profile was the centre-spread of a special supplement that the Herald published in August 1990 to commemorate the 50th anniversary of the Battle of Britain, and specifically 'Eagle Day' (13 August 1940) – the start of a Luftwaffe bombing offensive against RAF airfields that was decisively rebuffed by Fighter Command.
Time flies, but three decades later I have vivid memories of my day with Maurice Leng. Courteous and modest, he was great company, describing his wartime experiences with a self-deprecating humour. He insisted on cooking me kippers for lunch, and when the interview was over, drove me back to the Herald's city centre office in his Mini Cooper. The speed at which Maurice negotiated Plymouth's rush-hour traffic left no doubt that he'd lost none of the skills acquired during aerial combat half a century before.
If you're interested in reading the original article, click on the images to see downloadable pdf's.