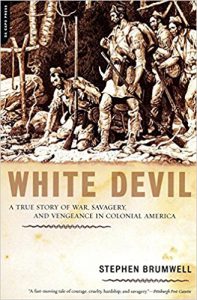 Beginning with the abduction of a family of white settlers by Indian raiders, this gripping true story lays bare the brutal conflict that inspired The Last of the Mohicans. The infamous massacre of the garrison of Fort William Henry by the French army's Indian allies accelerated a cycle of revenge that would end in Robert Rogers' bloody raid on the Abenaki village of St. Francis, and a harrowing retreat through the frozen wilderness of North America.
Robert Rogers created what was arguably the world's first 'special forces' unit and it remains the inspiration for the US Army Rangers of today. He was a complex character, a fearsome fighter feted in the salons of London and New York. The newspapers hailed him as a hero, but the Abenakis would soon have a new name for him: 'White Devil'.
Susanna Johnson was a typical frontierswoman, living on a farmstead with her family in the 1750s until she was abducted by an Abenaki war party, together with her husband and children. Her account of their ordeal vividly describes the lifestyle of the Abenakis at this critical time in their history. The interwoven stories of Robert Rogers, the Johnson family and the Indian wars make White Devil as riveting an adventure story as the novels and films these events inspired. It reveals the remarkable true story of Rogers and his Rangers: an epic of revenge and survival in the North American wilderness.
Reviews of White Devil
"A thrilling narrative … vividly written." Times Literary Supplement
"Stephen Brumwell's excellent research and gripping prose resurrect Rogers's reputation." Sunday Telegraph
"[A] captivating story of frontier conflict … Brumwell's story-telling capabilities and scholarly skills balance his anger, making for an otherwise flawless study." Good Book Guide
"With a novelist's sense of drama, buttressed by the historian's fidelity to fact, Stephen Brumwell's White Devil sets the story of Rogers' St Francis Raid into the larger context of the contest for empire which swept up French and British, Indian, Canadian and New England colonial families into a maelstrom of vicious frontier warfare. Many have tried to tell the tale of the raid and its harrowing aftermath, but no one has told the story more vividly or with richer nuance. Rogers the legend-maker has met his match in Brumwell." Nicholas Westbrook, Director, Fort Ticonderoga, New York
"Writing with verve and great narrative drive, Brumwell delivers a story full of adventure, brutality, and moral ambiguity that readers will not want to put down. A splendid book." Professor Fred Anderson, author of 'Crucible of War'
"Occasionally a book comes out that's written with color and flair, that's painstakingly researched, and that breaks new ground on an old subject. These books always spark in readers an interest in the given subject where little or no interest has been previously. This is just such a book." Military Book Club (USA)
"…a vivid account." Boston Globe
"Few works of American historical fiction can match for excitement the section of Kenneth Roberts' Northwest Passage that relates the attack on and subsequent escape from the St Francis Abenaki Indian village by Major Robert Rogers and his renowned Rangers in October 1759 during the French and Indian War. It is absolutely riveting. Turns out that in the right hands truth, or at any rate fact, can be just as thrilling as fiction. Those hands here belong to Stephen Brumwell." Washington Times
"… Brumwell's intent here is to tell a dramatic story informed by the latest scholarship, including not only the relatively recently collected Abenaki oral histories and the discovery of Rogers' hand-drawn map of the raid, but also the sophisticated historical work now available on the nature of native societies and of wilderness warfare. In this purpose he is wildly successful. The book is a delight to read, and consistently reassuring in its depiction of current issues in the scholarship." Journal of Military History
"… The time is right for a reconsideration of Rogers, especially in light of modern scholarship on the European-Indian encounter in colonial America. Brumwell delivers this in White Devil. As a historian, he knows his sources and has conducted extensive research on both sides of the Atlantic. As a writer, he has provided a taut narrative worthy of the characters and events it describes … this is a fine book that offers a rewarding read to scholars and laypeople alike. It deserves a wide audience." New York History
"… The danger is that Brumwell's scholarly side may overpower his populist side, leaving readers scattered on the battlefield. Not so. His nimble, clear-eyed account provides a welcome middle way between the often daunting, arid stretches of capital-H History and the sometimes sentimental and overwrought J. Fenimore Cooper." Hamilton Spectator
"… Brumwell showcases history with a brilliantly exciting style." Rocky Mountain News & Denver Post
"… an excellent update to John R. Cuneo's Robert Rogers of the Rangers and complements Fred Anderson's Crucible of War: The Seven Years' War and the Fate of Empire in British North America, 1754-1766. Highly recommended for all Colonial American history collections." Library Journal
"… a fast-moving tale of courage, cruelty, hardship and savagery set at a time when the Appalachian Mountains marked the boundary of the Wild West." Pittsburgh Post-Gazette
"… provides an impressive insight into an important historical period usually given short shrift in the classroom. Like any good popular history, it puts the reader squarely in the action, planning thrust and defense amid tangled woodlands and swamps, with families to protect and wily foe to outwit … This is an exciting read, a fine account of just how difficult it was to trek across – never mind fight in – the primeval wilderness of upstate New York in the 1700s. Better yet, the reader learns just how difficult it is to judge which side is 'right' and which is 'wrong' in a war long past." KLIATT (* rated as exceptional material)
"Brumwell's book tells both sides of this fascinating story without bias or any concern for political correctness. The narrative flows smoothly, but it is backed up by substantial endnotes that thoroughly document his sources… White Devil is a gripping tale of Rogers' leadership, the raiders' courage and the tenacity of their French and Indian pursuers. It is the most in-depth account of these events to date and is simply a 'must-read' for anyone interested in Rogers' Rangers, the Abenaki Indians, or the French and Indian War in the Northern Colonies." Muzzleloader (The Publication for Black Powder Shooters)