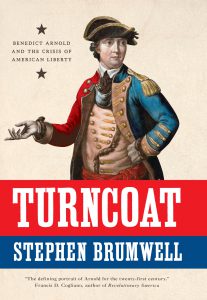 WINNER: Society for Military History Distinguished Book Award 2020

AUDIOBOOK: Turncoat is also available as a download / CD audiobook via Recorded Books, Amazon US, Amazon UK, or Audible. 
General Benedict Arnold's failed attempt to betray the fortress of West Point to the British in 1780 is among the most infamous episodes in American history. Even today his name is synonymous with 'traitor'. Arnold's defection was all the more shocking because of his record as one of the Revolution's bravest and most-effective fighters. But why did Arnold turn against his country and comrades? Contemporaries believed he was corrupted by greed, 'seduced' by British gold. More recently, historians have emphasized Arnold's resentment at the failure of Congress to recognize his merits and sacrifices. Whatever his reasons, Arnold is typically viewed as a selfish, cynical renegade.
In Turncoat: Benedict Arnold and the Crisis of American Liberty, Stephen Brumwell challenges these interpretations. Drawing upon previously unexploited manuscripts from British and American archives, he argues that Arnold's crucial motivation was ideological: he acted from a genuine conviction that America's best interests would be served by ending an increasingly bitter, brutal and divisive conflict with one devastating blow, thereby reuniting the fractured British Empire.
Headstrong, hot-tempered, and driven by an unswerving confidence in his own 'rectitude', Arnold remains an enigmatic personality. Turncoat traces his remarkable rise to hero of the Revolutionary cause, and explores the factors that eventually convinced him to forsake it. Based upon a wide range of evidence, it reconstructs Arnold's conspiracy and explores the unprecedented reaction to its dramatic denouement. Turncoat contests the widespread belief that, by alerting American patriots to imminent disaster, Arnold's plot inadvertently 'saved' their flagging cause, demonstrating that popular anger against him was not reflected in a revitalized war-effort, and that the Revolution's darkest days still lay ahead. For all its enduring notoriety, Arnold's treason was an extreme manifestation of far wider discontent, one extraordinary episode in a more prolonged 'Crisis of American Liberty'.
"Turncoat does an excellent job utilizing both published documents and manuscripts to make the case that, while Arnold was a conflicted character whose bravery and charisma were at odds with his vanity and self-serving nature, he did personally believe in the rectitude of his actions from 1779 to 1781 …. The prose is compelling and fast-paced, and this new perspective on the [Revolutionary] war gives the reader much food for thought." – The Historian
"Brumwell's conclusions are meticulously buttressed by research … yet Turncoat is not a stuffy academic exercise. Well written, easily accessible to scholar and layman alike, this biography restores humanity to the life of a scoundrel." – Times Literary Supplement
"Brumwell is a captivating storyteller … this is a splendid, intelligent, articulate book that casual readers and Arnold scholars alike will enjoy." – Journal of the American Revolution

"Journalist-turned historian Brumwell had plumbed archives hither and yon to produce the most complete and balanced portrait of the American Revolutionary War hero who, at the height of his success and fame, went over to the British, and whose name subsequently became in America an epithet for the blackest treachery and almost inexplicable iniquity." – The Heythrop Journal
"Turncoat paints a fascinating picture of Arnold … he was clearly a man of many talents and Brumwell, while not excusing his treason, does much to humanize him." – CIA analyst John Ehrman, Studies in Intelligence
"Turncoat offers a new and unique perspective, and insight that makes it an essential book for all readers with a passion for uncovering the true history of the American Revolution." – Army History
"Brumwell's careful study, a model of scholarship and human insight (not qualities often found together), provides an altogether convincing revisionist view of the Arnold case. As he analyses it, some half-dozen factors were simultaneously at play, pushing Arnold towards treachery. Ultimately, Brumwell states, Arnold's behaviour was all too human. With his outstanding analysis of the Arnold case, Brumwell has written a book that puts the notorious American paranoia about treason into perspective." Frank McLynn, Literary Review
New York Times Q&A article: 'Tell us 5 things about your book: A Fresh Look at Benedict Arnold's Treason'
"A cracking good tale… offers new evidence and a compelling argument as to the real reasons behind Arnold's betrayal of the American independence movement. If you thought it was all about money, Brumwell will make you think again. His recounting of the entirely accidental way in which the planned treason was uncovered, and what happened next, reads like a top-drawer Hollywood screenplay; it's a true cinematic nail-biter. If you're a fan of American History, this book is an absolute "don't miss"–and if you like listening to your American History, my audiobook version will give you about 17 hours of immersion in a remarkable true story." Andrew Sellon, actor & 'Turncoat' audiobook narrator
"Mr. Brumwell, a military historian and biographer of George Washington, centers 'Turncoat' on the 1780 conspiracy – in which Arnold played a key role – to give West Point to the British and possibly enable George Washington's capture. Deftly weaving that story into the larger military history of the American Revolution, Mr. Brumwell vividly sketches characters and recounts pivotal episodes. He argues that Arnold thought of himself as someone working to mend relations between Britain and America, welcoming terms that removed the grounds of the original quarrel. In short, he was moved by something more rational than pique and less petty than resentment." William Anthony Hay, Wall Street Journal
"This story has it all: There are spies and counterspies, suspense and close calls, a beautiful woman, a handsome and charming British major, and Alexander Hamilton. It's amazing that Hollywood hasn't made a serious effort to adapt it for the screen." Prof. Gordon S. Wood, The Weekly Standard
"Lucidly written and rich in detail, Brumwell's narrative explains Benedict Arnold's treason by taking him at his word— that the Revolution's arch-traitor turned his coat to save America from a bloody civil war and a patriot cause gone astray. Brumwell's conclusions are as provocative as Arnold was controversial. A gripping read." Mark Edward Lender, co-author of the award-winning Fatal Sunday
"The most balanced and insightful assessment of Benedict Arnold to date. Utilizing fresh manuscript sources, Brumwell reasserts the crucial importance of human agency in history." Edward G. Lengel, author of General George Washington, and editor of the Papers of George Washington
"Gripping … This fine book situates Benedict Arnold within several contexts: issues of loyalty and disloyalty; treason as a political concept and a crime; relationships among honor, reputation, politics, and war; and the ordeal of 1780 for everyone embroiled in the Revolutionary War. At a time when charges of treason and disloyalty intrude into our daily politics, Turncoat is essential reading." R. B. Bernstein, City College of New York
"Written with grace and flair by a leading military historian, Turncoat examines Benedict Arnold's career as a soldier on both sides during the War of Independence. In so doing, Brumwell has written an incisive study of the war and the very meaning of the American Revolution itself." Francis D. Cogliano, author of Revolutionary America
Historian Brumwell (George Washington: Gentleman Warrior) offers a provocative explanation for one of the enduring mysteries of the American Revolution: why did Benedict Arnold, one of "Washington's most celebrated and valued subordinates," become a traitor in 1780? Brumwell rejects the most common theories: that Arnold felt disrespected by the Continental Congress, which passed him over for promotion despite his impressive track record as a military commander, or that greed was his primary motivator. Instead, Brumwell credits Arnold's own statements that he felt that offers to the rebels to end the fighting were both genuine and satisfactory, and that his defection was intended to reunite the fractured British Empire. Supporting his case with evidence such as the writings of British officer John Simcoe, Brumwell makes plausible the counterintuitive notion that Arnold's position was not a fringe one, but actually "symptomatic of a far wider discontent" among the colonials. He also narrates the arc of Arnold's life and reminds nonspecialists that the Americans' eventual victory was far from inevitable. Open-minded readers will appreciate his dissenting view that Arnold may have "genuinely had his country's well-being at heart," a view that Brumwell believes "merits careful consideration within any balanced re-examination of America's most infamous traitor." Publishers Weekly (starred review)