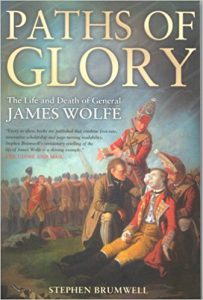 WINNER: Distinguished Book Award, Society of Colonial Wars 2008
WINNER: Charles P. Stacey Prize 2008
Ugly, gangling, and tormented by agonising illness, Major General James Wolfe was an unlikely hero. Yet in 1759, on the Plains of Abraham before Quebec, he won a battle with momentous consequences. Wolfe's victory, bought at the cost of his life, ensured that English, not French, would become the dominant language in North America. Ironically, by crippling French ambitions on that continent, Wolfe paved the way for American independence from Britain.
Just thirty-two years old when he was killed in action, Wolfe had served in the British Army since his mid-teens, fighting against the French in Flanders and Germany, and the Jacobites in Scotland. Already renowned for bold leadership, Wolfe's death at the very moment of victory at Quebec cemented his heroic status on both sides of the Atlantic. Epic paintings of Wolfe's dying moments transformed him into an icon of patriotic self-sacrifice, and a role model for Horatio Nelson.
Once venerated as the very embodiment of military genius and soldierly modesty, Wolfe's reputation has recently undergone sustained assault by revisionist historians who instead see him as a bloodthirsty and priggish young man, a general who owed his name and fame to one singularly lucky – though crucial – victory.
But was there more to James Wolfe than a celebrated death? In Paths of Glory, the first full-length biography of Wolfe to appear in almost half a century, Stephen Brumwell seeks to answer that question, drawing upon extensive research to offer a boldly argued reassessment of a soldier whose short but dramatic life unquestionably altered the course of world history.
Reviews of Paths of Glory
"Every so often, books are published that combine first-rate, innovative scholarship and page-turning readability. Stephen Brumwell's revisionary retelling of the life of James Wolfe is a shining example … This generous reassessment is overdue." Globe and Mail
"Paths of Glory is a powerful tonic, which shows that Wolfe was anything but priggish … and that his generalship – and not luck – won for England a continent." Times Literary Supplement
"Brumwell narrates the action with the skill of a spy novelist … [his] biography offers a convincing argument that Wolfe triumphed through skill and energy rather than sheer luck." Books in Canada
"Paths of Glory is a moving tale, clearly heartfelt – and infectious." Toronto Star
"Brumwell's book is a major work of research … [which] will be consulted by all future scholars." Literary Review of Canada
"[In] this excellent book … Brumwell uses the historian's tools of understanding the context, and mastering the primary and secondary literature, adding a dash of common sense." The Canadian Army Journal (Le Journal De L'Armee Du Canada)
"The victor at Quebec in 1759, General James Wolfe has been the subject of innumerable books. First his reputation soared: Wolfe as indomitable hero. Then it was trounced: Wolfe as incompetent commander and closet homosexual. Brumwell has set out to be fair, and he is, but he comes down foursquare for Wolfe as a good, competent commander with some luck on his side – if a general killed in action at age 32 can be lucky, that is. Wolfe was brave in action, took care of his soldiers, was a good trainer, and worked at pleasing his superiors and mobilizing them on his behalf. At Quebec, his soldiers seemed happy enough under his command, but his brigadiers, a quarrelsome lot, were not. But by finding a way up the cliff to the Plains of Abraham (a move of desperation, for sure), Wolfe put his army in front of the walls of Quebec. Montcalm, the French commander, decided to fight, and the battle was bloody and brief. The fate of New France was sealed. Wolfe deserves the credit, and Brumwell makes sure he gets it. Interestingly, the author also analyzes portraits of Wolfe, and this adds extra interest to a well-researched, splendidly written book. Summing Up: Highly recommended. All levels / libraries." CHOICE
"Such an eventful career spanning such a short life makes for dramatic reading, but Brumwell manages to maintain the reader's interest without resorting to melodramatics. Thoroughly familiar not only with the eighteenth-century British Army but with Georgian society in general, the author sets Wolfe's career in the context of his time, making the book valuable to readers with an interest in social as well as military history … Useful to historians and accessible to the general reader, Paths of Glory is highly recommended not only to those with an interest in the period, but to anyone who appreciates a well-crafted study of a timeless subject." The Journal of Military History
"[One] of the most engaging biographies appearing this year … Brumwell has a novelist's gift for telling a story." The Year's Work in English Studies (Oxford Journals)
"The best and most comprehensive biography of James Wolfe." H-Net Review
"As a biography, Paths of Glory is a model of its kind, and as academic-yet-readable military history it is excellent: it is thus very highly recommended." Journal of the Society for Army Historical Research