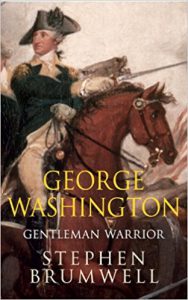 WINNER: George Washington Book Prize 2013
"I am a warrior." These were the uncompromising words that George Washington chose to describe himself in May 1779, at the height of the Revolutionary War against Britain. It's an image very different to the one that he's been assigned by posterity – the patriotic plantation owner who would become the dignified political leader of his country.
This book focuses on a side of Washington that is often overlooked: the feisty young frontier officer and the tough forty-something commander of the revolutionaries' Continental Army, not the venerated elder statesman of the Republic. It examines Washington's long and chequered military career, tracing his evolution as a soldier, and his changing attitude to the waging of war. A central narrative anchored upon Washington's own experience is combined with analysis of the background influences that shaped his conduct as an officer. Ironically, it shows how Washington's reliance upon English models of 'gentlemanly' behaviour, and on British military organisation, was crucial in establishing his leadership of the fledgling Continental Army, and in forging it into the weapon that won American independence.
George Washington: Gentleman Warrior is a vivid recounting of the formative years and military career of 'The Father of his Country', following his journey from brutal border skirmishes with the French and their Indian allies to his remarkable victory over the British Empire, an achievement that underpinned his selection as the first president of the United States of America.
Drawing on a wide range of sources, including original archival research, Stephen Brumwell paints a compelling and challenging portrait of an extraordinary individual whose fusion of gentleman and warrior left an indelible imprint upon history.
Reviews of George Washington: Gentleman Warrior
"In clear prose and a compelling narrative style, Stephen Brumwell balances the popular image of Washington as a reluctant commander, statesman, and father of his country with that of an ambitious young officer in the British military tradition, whose experiences–and hard lessons—in war shaped his leadership of a nation born out of conflict." Colin G. Calloway, John Kimball Jr. 1943 Professor of History and Professor of Native     American Studies, Dartmouth College
"Dynamic . . . The First Father waves from his high horse with this felicitous new assessment of his derring-do." Kirkus Reviews
"Brumwell breathes new life into a younger and edgier incarnation of our first president—the feisty frontier warrior who engaged the French and their Indian allies in brutal border skirmishes, the tough mid-career officer who turned the Continental Army into the weapon that defeated the British Empire. Even while Washington fought the redcoats, Brumwell argues, he relied on British models of military organization and gentlemanly behaviour in shaping his distinctive style of leadership." From the 2013 The George Washington Book Prize winner citation announcement
"Stephen Brumwell's book is a pleasure to read from the very first pages, when he puts you right there, literally looking down the sights of a rifle held by a British officer who's about to decide whether to kill George Washington. . . . [Brumwell] brings the frontier military experience to life—the vermin, the floggings, the constant fear of ambush and massacre. And readers get a vivid sense of Washington himself as a creation of eighteenth-century military culture." Adam Goodheart, Hodson Trust-Griswold Director of the C.V. Starr Center for the Study of the American Experience, George Washington College
"George Washington: Gentleman Warrior is a wonderful read and the scholarship is deeply impressive—Stephen Brumwell was way down in the scholarly weeds sorting out things most eighteenth-century specialists don't know much about." James G. Basker, President, Gilder Lehrman Institute of American History
"Well-written and engaging . . . In the hands of this fine biographer, Washington emerges as a flesh and blood man, more impressive than the mythical hero could ever be." 2013 Washington Book Prize Jury's finalist selection citation
"An exciting read with much background detail and good historical analysis." The American
"Extremely enjoyable reading" Good Book Guide
"The journey of George Washington from warrior to politician makes for an engrossing read, especially with a talented guide to lead us through a lively narrative, packed with incident and highly illuminating analysis." Warships International Fleet Review
Book order and more information from Amazon.co.uk: Hard cover / Kindle version[/vc_column_text][/vc_column]
[/vc_row]